In its phase 1, Med-CORDEX simulations gather 3 kind of runs (evaluation, historical, scenario), 4 kind of regional models (atmosphere, land-surface, ocean, coupled RCSM) and are classified in two categories: CORE simulations and TIER1 simulations.

CORE simulations
The framework for the Med-CORDEX CORE simulations follow the CORDEX frame over the Mediterranean domain (MED-44):
Atmosphere-Land only
50 km over the MED-44 CORDEX domain
Evaluation run (ERA-Interim driven runs, 1989-2008 minimum)
Historical runs (1981-2005 minimum, 1950-2005 advised)
Scenario runs (RCP8.5, RCP4.5, 2011-2040 or 2041-2070 minimum, 2006-2100 advised)
The simulations are also described on the HyMeX database web site. Each form corresponds to one simulation and gives some details about the model, the reference article, the modelling group, etc. It is also possible to access to the simulations archived on MED-CORDEX database from those forms.

TIER-1 simulations
The TIER1 Med-CORDEX simulations include:
Extension of the ERA-Interim evaluation CORDEX runs to the longest possible period and in particular to present in order to use the most recent evaluation data available and the HyMeX field campaign results. The period 1979-2013 is advised.
Production of an ensemble of higher-resolution atmosphere RCM: target resolution is 0.11°, about 12 km (MED-11) but intermediate resolutions are possible.
Production of an ensemble of simulations with coupled Regional Climate System Models (RCSM), i.e. with fully interactive Atmosphere-Land surface-River-Ocean components, covering the whole Mediterranean basin at high resolution;
Production of stand-alone simulations for all the components of the RCSM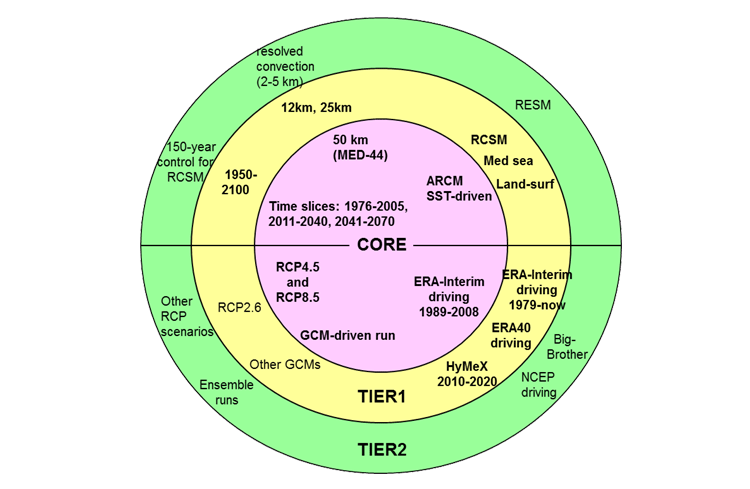 Participating teams
Today, Med-CORDEX gathers 22 different modelling groups from 9 different countries in Europe, Middle-East and North-Africa:
France
Germany
Greece
Hungary
Italy
Serbia
Spain
Tunisia
Turkey
The registered modelling groups are:
The participating models are:
17 different Atmosphere-RCM (resolution between 10 and 50km)
8 different Ocean regional models
4 different Land-Surface regional models
14 Fully coupled Regional Climate System Models (at least ocean-atmosphere-land)
8 GCMs used for the scenario runs